Mechanical Systems
PASSIVE AISLE SECURITY SYSTEM
SMART AISLE/1001™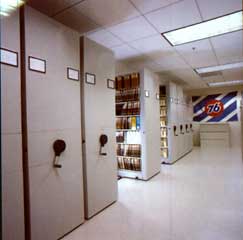 Mechanical Specifications
With the mechanical product, the safety is automatically engaged simply by opening the aisle. There is no forethought required by the user. The operator is completely protected. Another nice benefit of our passive safety is that it is mechanically designed and does not require electricity. However, the most important benefit of ours is that it prevents the shelving from moving while others rely on a brake to stop it after it hits you!
"OTHERS"
ELECOMPACK®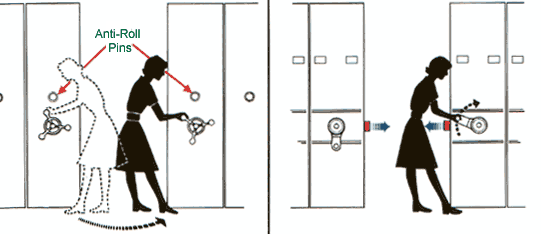 "Too Much Trouble"
Most manufacturers have an anti-roll
pin located in the center of the front panel. The user must first set the pin
on the range he/she has moved, and then walk back to the other side of
the aisle and set the pin on the other
panel. "That's too much trouble," so
they don't bother.
==>Conclusion: No Safety
"Automatic Passive Safety"
With SMART AISLE 1001™(the first
passive mechanical safety on the
market), the user doesn't have to make
any conscious decision to protect
him/her self. Just turn on handle to
open an aisle and safety is automatic.


==>Conclusion: AbsoluteSafety
MULTIPLE AISLE CAPABILITY
ABSOLUTE PROTECTION!
Click here for Printable detailed Mechanical Specifications
To See A Real Player Video of the Elecompack
Smart Aisle/1001 Click Here